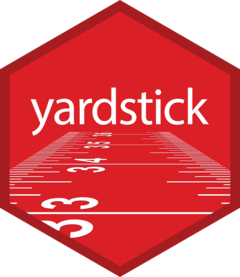 Changelog
Source:
NEWS.md
yardstick 1.1.0
Emil Hvitfeldt is now the maintainer (#315).

Improved on the chained error thrown by metric_set() when one of the metric computations fails (#313).
yardstick 1.0.0
CRAN release: 2022-06-06
All yardstick metrics now support case weights through the new case_weights argument. This also includes metric-adjacent functions like roc_curve(), pr_curve(), conf_mat(), and metric_set().

The options argument of roc_curve(), roc_auc(), roc_aunp(), roc_aunu(), and metrics() that was passed along to the pROC package is now deprecated and no longer has any affect. This is a result of changing to an ROC curve implementation that supports case weights, but does not support any of the previous options. If you need these options, we suggest wrapping pROC yourself in a custom metric (#296).

conf_mat() now ignores any inputs passed through ... and warns if you try to do such a thing. Previously, those were passed on to base::table(), but with the addition of case weight support, table() is no longer used (#295).

Fixed a small mistake in ccc() where the unbiased covariance wasn't being used when bias = FALSE.

j_index() now throws a more correct warning if 0 is in the denominator when computing sens() internally. Additionally, in the multiclass case it now removes the levels where this occurs from the multiclass weighted average computation, which is consistent with how other metrics were updated to handle this in #118 (#265).

Improved on some possible ambiguity in the documentation of the data argument for all metrics (#255).

purrr has been removed from Suggests.

The pROC package has been removed as a dependency (#300).

Moved the Custom Metrics vignette to tidymodels.org (#236).
yardstick 0.0.9
CRAN release: 2021-11-22
yardstick 0.0.8
CRAN release: 2021-03-28
yardstick 0.0.7
CRAN release: 2020-07-13
The global option, yardstick.event_first, has been deprecated in favor of the new explicit argument, event_level. All metric functions that previously supported changing the "event" level have gained this new argument. The global option was a historical design decision that can be classified as a case of a hidden argument. Existing code that relied on this global option will continue to work in this version of yardstick, however you will now get a once-per-session warning that requests that you update to instead use the explicit event_level argument. The global option will be completely removed in a future version. To update, follow the guide below (#163).

`options(yardstick.event_first = TRUE)`  -> `event_level = "first"` (the default)
`options(yardstick.event_first = FALSE)` -> `event_level = "second"`

The roc_auc() Hand-Till multiclass estimator will now ignore levels in truth that occur zero times in the actual data. With other methods of multiclass averaging, this usually returns an NA, however, ignoring levels in this manner is more consistent with implementations in the HandTill2001 and pROC packages (#123).

roc_auc() and roc_curve() now set direction = "<" when computing the ROC curve using pROC::roc(). Results were being computed incorrectly with direction = "auto" when most probability values were predicting the wrong class (#123).

mn_log_loss() now respects the (deprecated) global option yardstick.event_first. However, you should instead change the relevant event level through the event_level argument.

metric_set() now strips the package name when auto-labeling functions (@rorynolan, #151).

There are three new helper functions for more easily creating custom metric functions: new_class_metric(), new_prob_metric(), and new_numeric_metric().

Rcpp has been removed as a direct dependency.
yardstick 0.0.6
CRAN release: 2020-03-17
yardstick 0.0.5
CRAN release: 2020-01-23
Other improvements
The autoplot() heat map for confusion matrices now places the predicted values on the x axis and the truth values on the y axis to be more consistent with the confusion matrix print() method.

The autoplot() mosaic plot for confusion matrices had the x and y axis labels backwards. This has been corrected.
yardstick 0.0.4
CRAN release: 2019-08-26
New metrics and functionality
iic() is a new numeric metric for computing the index of ideality of correlation. It can be seen as a potential alternative to the traditional correlation coefficient, and has been used in QSAR models (@jyuu, #115).

average_precision() is a new probability metric that can be used as an alternative to pr_auc(). It has the benefit of avoiding any issues of ambiguity in the case where recall == 0 and the current number of false positives is 0.
Other improvements
metric_set() output now includes a metrics attribute which contains a list of the original metric functions used to generate the metric set.

Each metric function now has a direction attribute attached to it, specifying whether to minimize or maximize the metric.

Classification metrics that can potentially have a 0 value denominator now throw an informative warning when this case occurs. These include recall(), precision(), sens(), and spec() (#98).

The autoplot() method for pr_curve() has been improved to always set the axis limits to c(0, 1).

All valid arguments to pROC::roc() are now utilized, including those passed on to pROC::auc().

Documentation for class probability metrics has been improved with more informative examples (@rudeboybert, #100).
yardstick 0.0.3
CRAN release: 2019-03-08
New metrics and functionality
Other improvements
metric_set() now returns a classed function. If numeric metrics are used, a "numeric_metric_set" function is returned. If class or probability metrics are used, a "class_prob_metric_set" is returned.
Bug fixes
Tests related to the fixed R 3.6 sample() function have been fixed.

f_meas() propagates NA values from precision() and recall() correctly (#77).

All "micro" estimators now propagate NA values through correctly.

roc_auc(estimator = "hand_till") now correctly computes the metric when the column names of the probability matrix are not the exact same as the levels of truth. Note that the computation still assumes that the order of the supplied probability matrix columns still matches the order of levels(truth), like other multiclass metrics (#86).